You think your sign plays an important part in picking a life partner? It actually goes waaaay beyond human relationships. Making sure you're compatible with your dog is just as important.
You need to make sure that you adopt a dog that is compatible with your sign.
If you do so, then you're going to have a beautiful relationship with your new furry buddy. If you are confused about what dog to get, then this comprehensive list is just what you need.
Read on to find out how to adopt a dog that is compatible with your sign! 
Pug|Aries (March 21 – April 19)
The hyperactive nature of the pug willhelp you adress your stubborn streak. You'll be focused on their wants and desires, which will help you work on reahcing comoromises in your life.
German Shepherd|Taurus (April 20 – May 20)
Since you're more introverted than most, you will do well with a dog that is incredibly loyal. A German Shepherd will allow you to develop a deep, symbiotic relationship.
Border Collie|Gemini (May 21 – June 20)
You have a hard time keeping still and a Border Collie will keep up with you as you run around, burning off all that energy.
Bichon Frise|Cancer ( June 21 – July 22)
Your mood can change on a dime and you need a dog that will notice and help you feel better.
Golden Retriever|Leo (July 23 – Aug. 22)
You're always in danger of losing touch with your emotions. The compassion that a Golden Retriever shows you constantly will keep your heart on your sleeve.
Poodle|Virgo (Aug. 23 – Sep. 22)
You're typically the smartest person in the room and you want your dog to be too.
Beagle|Libra (Sep. 23 – Oct. 22)
You like your relationships deep and meaningful. Beagles provide you with a loyal and happy friend for the long term.
Papillion|Scorpio (Oct. 23-Nov.1)
Scorpios wear their emotions on their sleeve, so you will need a dog that can protect those emotions and promote the positive ones.
Husky|Sagittarius (Nov. 22 – Dec. 2)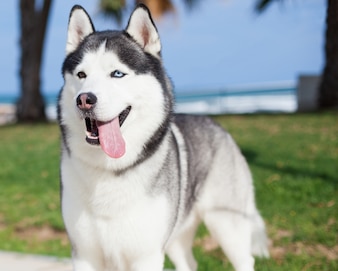 You can't wait to get outside and go on an adventure. A husky will share that passion.
English pointer|Capricorn (Dec. 22 – Jan. 19)
Your disciplined and competitive nature will rub off on this breed.
Old English Sheepdog|Aquarius (Jan. 20 – Feb. 18)
Your caring nature means you put others above yourself most of the time. A sheepdog will turn the attention back on you right when you need it.
Cocker Spaniel|Pisces (Feb. 19 – March 20)
You have a tendency to disappear into your thoughts. This dog will keep you from doing that too often, by requiring loving attention.
By Max Kelley | XO Benzo
Please share, follow and like us: